Massachusetts-Based Advanced Manufacturing Innovator Bolsters Its Quality Management System with Latest ISO Certification
CeraNova Corporation, a leading provider of innovative products and advanced manufacturing for cutting-edge engineered materials, has completed the process for ISO 9001:2015 Certification and received its ISO Certificate from CIC Management, LLC, on February 12, 2018.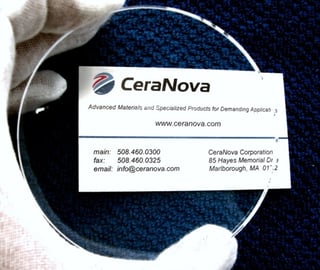 ISO 9001:2015 is the most recent standard published by the International Organization for Standardization (Geneva, Switzerland) for Quality Management. Being certified to the standard means that CeraNova's Quality Management System (QMS) has met ISO-specified criteria needed to consistently deliver products and services that meet customer requirements and enhance customer satisfaction.
This certification gives assurance to customers that the products and services provided by CeraNova will consistently meet all of their specified requirements. In the course of delivering its product and services, the materials, production methods, inspection, testing, and record-keeping activities used will all meet certified quality processes and standards.
Commenting on the impact that ISO 9001 certification brings to the business and its customers, CeraNova President and CEO Dr. John J. Gannon, Jr., said, "A key component of CeraNova's growth plan is its transition to a greater focus on manufacturing. Establishing a robust QMS that provides a framework for responding to changing quality requirements, and a means by which to measure continuous improvement is critical part of that plan. In addition to improving our ability to consistently deliver quality products and services, being certified to the ISO quality system standard will open up additional opportunities for CeraNova with existing and new customers."
For more information about CeraNova and its capabilities and services, visit www.ceranova.com.
About CeraNova Corporation
CeraNova Corporation is a privately held company providing advanced materials product development for industrial and commercial markets—encompassing advanced defense systems, industrial products, and electronic devices. CeraNova is a leading provider of innovative products and advanced manufacturing for cutting-edge engineered materials, specializing in high-performance ceramic components and products for demanding applications. Focused on optical and high-strength materials, process and product development, and cost reduction, CeraNova draws upon decades of expertise when collaborating with customers to deliver exceptional solutions through customized material compositions, product and tooling design innovation, and advanced manufacturing methods.